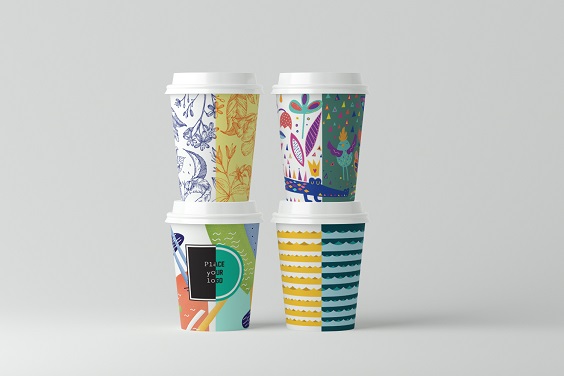 Where you can put a stamp on a cup
There are two standard techniques for dishwasher-safe printing on cups: One is dye sublimation printing on ceramic mugs and screen printing for porcelain cups. Both printing methods provide outstanding and long-lasting printing results. Although the techniques stand for quality, the printing methods differ from each other and have unique advantages. Their use depends on what requirements are placed on the mug.
Also, you can order custom paper coffee cups with a print. A unique design will be made for your company. It is good marketing and the best cooperation with the customer.
Print types on the cup
A cup is a small item of everyday use, but it plays a vital role in displaying advertising content, in promoting the desired image. And printing a company logo on cups works better than giant billboards or television commercials. Gift tableware with a print will remind you of the company for a long time, allowing you to achieve an unattainable effect through many other types of advertising. If you look at any table located anywhere in the world, it is likely to have an advertising cup. Exciting graphics, logos, and slogans prepared by designers will accompany users in their daily activities for many days.
Types of printing on cups:
Direct printing is, first of all, a low price compared to other printing methods. Unlike ceramic decals, no additional media is required for printing. The printing process takes place directly on the surface of the cup. A further advantage is that such a print is resistant to washing in the dishwasher. Important to know! Printed cups (porcelain, faience) are fired at a temperature of 800- 840 ° C, which ensures their durability for washing in dishwashers. Images on glass are fired at a temperature of about 600 ° C, so it is recommended to wash them by hand.
Ceramic decal is a technique in which the image is applied using special tracing paper, then fired to fix it. Thanks to this method, we can even apply your photos.
Sublimation is a method of applying not only logos. You can also order a cup with a photo. This method applies printing to the surface using special paper with an image or photo and a heating press. The quality of images must be at least 300 dpi. Prints made using this technology are stored for at least 1000 washing cycles in the dishwasher.
Laser engraving is performed by a laser beam using a computer program, suitable only for metal products. Additionally, we provide a wide range of packaging for products from our range.
A cup is a thing that is used every day at work, in the office, or on the street. It is always a good and necessary gift.
Printing on a cup — a marketing tool
Branded gifts are of great importance for creating a positive image of the company, increasing brand awareness, and growing interest in the offer. Many exciting solutions come to mind when you think about typical promotional souvenirs.
One of the first is undoubtedly promotional cups, everyday items that can be seen in any home kitchen and on companies' desks. Not surprisingly, cups with logos are an essential marketing tool that is willingly distributed among colleagues, clients, and contractors during business meetings, conferences, and visits to fairs. They will provide your company with the highest quality advertising.
A branded mug always stands out on the desktop, where the eyes of a client or partner fall first immediately after exchanging business cards and shaking hands. Give them your branded cups — this is a proven recipe for good promotion and strengthening mutually beneficial cooperation.